We are delighted to announce the website launch of a high profile WESTERN ISLES website design project for Hebridean Estate Agency. The site, available at www.hebea.co.uk, provides the perfect platform for Hebridean Estate agency to make a great first impression to audiences locally and further afield.
Margaret Mackay, Director at Anderson MacArthur said: "We were delighted with the service provided by Heb Web Design in designing and facilitating Hebridean Estate Agency and Anderson MacArthur's new website. As the website is the first port of call for many clients, it was important to get it right and Derek was efficient, patient and diligent throughout. The site certainly adds value to our business and has attracted considerable positive feedback."
Some interesting features include:
Responsive Design
The site uses 'responsive design', meaning that the layout of each web page automatically adapts to suit smaller screens on smart-phones and tablets. About a third of the visits to most websites are now from mobile devices, and responsive design ensures that every website visitor can enjoy using the site easily. You can see a very visible example of responsive design in action on the new homepage. Here, we show impressive full screen images to visitors using computers with large monitors, but a different page layout to those visiting the site on their phone. (Please do visit the site on different types of device to see this for yourself)
Advanced Search
The new site includes an advanced search which allows users to control specific search criteria such as property type, area, price and number of bedrooms. This is an important feature as it allows users a fast, simple and targeted way to find the property they are looking for without the hassle of scrolling through an abundance of properties.
On-line forms
The site includes various on-line forms:
Contact form
Property enquiry form
Join our mailing list form
Property Location on Google Maps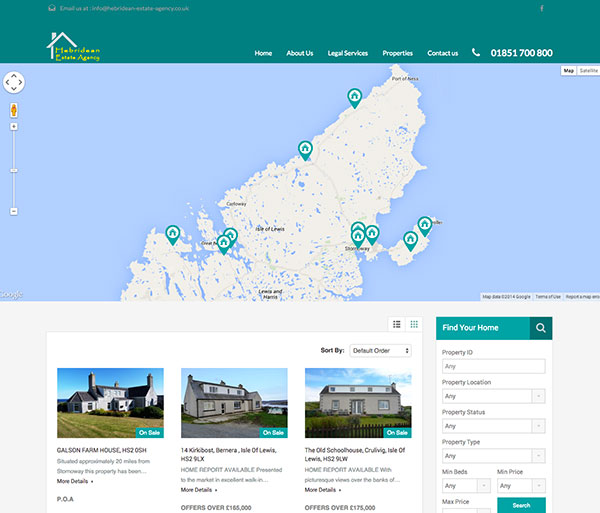 Having Google maps with the possibility of a street view display on each property page not only enhances the buyer or tenants experience but also provides a great way of offering sellers and landlords the best possible on-line marketing for their property.
Content Management System
The site includes an extremely easy-to-use content management system to enable Hebridean Estate Agency to update content (including photos, videos and house schedule attachments) as and when required, without further input from Heb Web Design.
There are many other features in the site too, so please do find some time to take a look around. If you have any feedback, please do let us know.